A Warped View of Life
by Bill Glose
Originally published in Hampton Roads Magazine, Jan 2008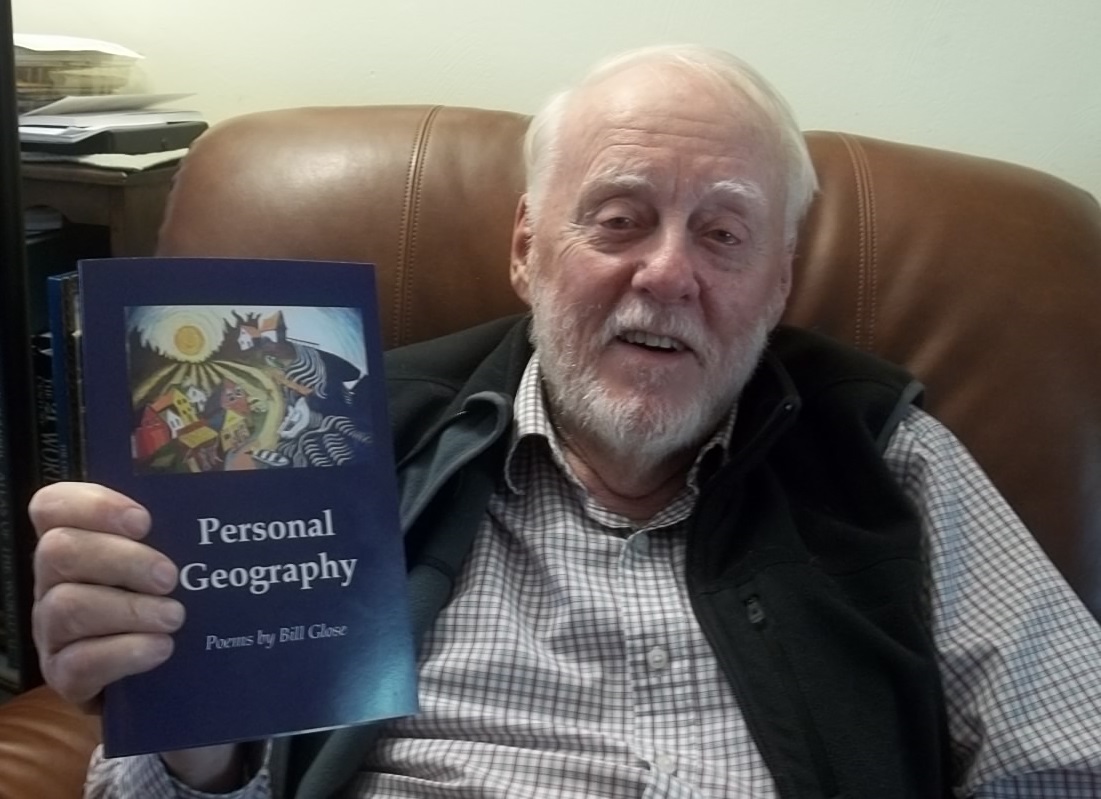 Ron Jensen holds up Personal Geography, which features one of his paintings on the cover (click picture to view the original painting)

"My sister is a real artist," says Ron Jensen. "I'm just having fun."

Fun it may be, but the Hampton artist is having success as well. Jensen's work has been displayed at art shows and museums throughout Virginia and is a regular feature in Hampton Roads galleries, such as Blue Skies in Hampton and Riverview in Portsmouth. His paintings have been featured on magazine covers and the Hampton Bay Days poster. And his style is so distinctive that his name is often dropped by casual art lovers when they chance upon his pieces.

Jensen's impressionistic canvasses can be recognized by their undulating landscapes and skylines that vibrate with energy. Vivid colors also make the work stand out, yet it is his abstract style that makes his paintings truly remarkable. Perhaps even more so because of his background—he is an engineer by trade.

Retiring from NASA in 1989, Jensen started his own engineering business. A successful contractor, he invented several solar energy systems and holds seven patents. But it was in art where he found release from the rigid structure of his job. "I'd had enough straight lines," Jensen says.

Nothing rebels more against his engineering roots than his "warped building" series. Even so, his process follows a certain regimen, beginning with a sketch of a building that is fairly accurate. "The next thing I do," Jensen says, "is doctor it up a little bit, put a few kinks in the walls, give it some life. I'll draw another round and put some lines in there that give it more strength. Then I'll paint it…Quite often, then, I move the window up into the roofline." He pauses to compare an original sketch to a final painting. "I don't mind that [first] building, but I get a bigger kick out of this building now."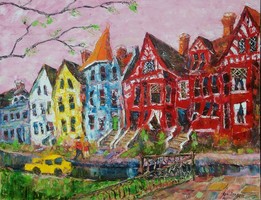 The "Warped" houses of a Ron Jensen cityscape

The "warping" process can take a long time to complete—two weeks sometimes—so Jensen has been experimenting with other styles to speed things up. Like using a knife instead of a brush to spread on a lot more color in a shorter amount of time. Using this method, he can sometimes finish a 20x24-inch painting in under four hours.

"If you paint everything in one session," says Jensen, "you get a nice consistency of smooth, bright colors. A lot of people come back to a second session the next day; when they paint it again, that paint will soak into the first layer of paint and will be dull."

Jensen's speed has allowed him to build up a large inventory, making him a popular man with local galleries. He has enough work to fill large spaces—he once hung 120 paintings in a one-man show—and rescue art directors when someone else falls through. "If I get a call from Riverview or somebody and they say, 'We don't have enough [paintings on the walls]. Can you bring 15 over?' I can say, 'Yeah, sure. I'll do that.'"

These days, the white-haired artist can usually be found painting in his home studio, a room added on to the back of his house. Classical music or a book-on-tape will be playing in the background. "Sitting right here and painting," Jensen says, "is my most enjoyable moment as an artist."

One side of his studio has windows end to end, filling the room with natural light. Paintings are stowed neatly in boxes lined up on the floor and yet more hang in three tiers of wall space that stretches almost two stories. Though much of the art is for sale, some of the paintings have gold stars attached to their corners designating that they are not. Because Jensen isn't in this for the business. He's just having fun.


---
Personal Geography Page
Home Page