Norfolk Scientists Zap Cancer
by Bill Glose

Sandy has skin cancer and will die. Sylvia has the same cancer—four melanomas on her skin— and will live. The difference? Electricity. Sylvia received two high-voltage treatments and is now a cancer-free mouse while Sandy, part of a control group, died within four days.

Sylvia and Sandy are just two of many lab subjects in a cancer-fighting project being conducted at Norfolk's Frank Reidy Research Center for Bioelectrics. Scientists at the Center have long been studying the effect of electric fields on cells and tissue.

"If you apply electricity from outside [the body], it can have fatal consequences," says Karl Schoenbach, the Center's director. "But if we use extremely short pulses—and short means billionths of seconds—we can cause cells to undergo a kind of suicide. It's a programmed cell death. So the idea came up, 'How can you use this process?' It was very obvious: if you want to get rid of unwanted cells. And the most unwanted cells are tumor cells."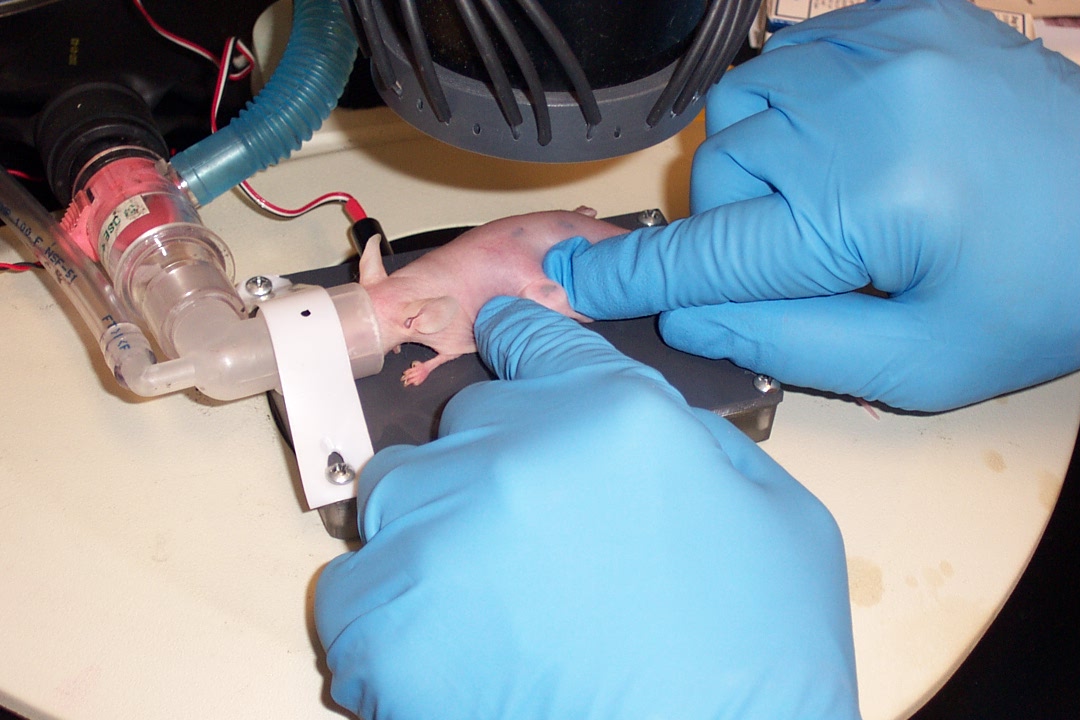 Dr. Nuccitelli examines Sylvia's tumors

The scientists discovered that using these short-duration electrical bursts decreased the size of cancerous mass by 90% within two weeks. "At that point," says Richard Nuccitelli, lead researcher for the project, "about 80% of the tumors begin to grow again. So we've knocked back the tumors, but then they've recovered. But, if we hit them again at that point, we can completely knock the tumors out in 100% of the cases."

Incredibly, all of this is accomplished without ill side effects in the mice or permanent damage to adjacent cells. By using a precise application, damage is contained to the immediate tumor area. Capillaries feeding the tumor react to the electric field by disintegrating, thereby removing blood supply to the tumor and instigating cell death.

"But the end result," says Nucitelli, "when you look at the skin and the capillaries, the tumor is gone, the capillaries are normal, the skin is normal. So everything recovers but the tumor."

So far, the scientists have been working exclusively with mice, whose skin is thinner and more pliable than humans'. But now they're altering the electrode design and optimizing the pulse parameters for human skin.

"We put together a plan to begin human trials in about a year," says Nuccitelli. "We estimate that in about a year of human trials we'd have enough data to go to the FDA for approval for human use. So this could be something that you see in use with humans in about two years."

"We're entering into talks about commercial applications," adds Schoenbach. "It's relatively simple to use so we hope it will show up in many doctor's offices."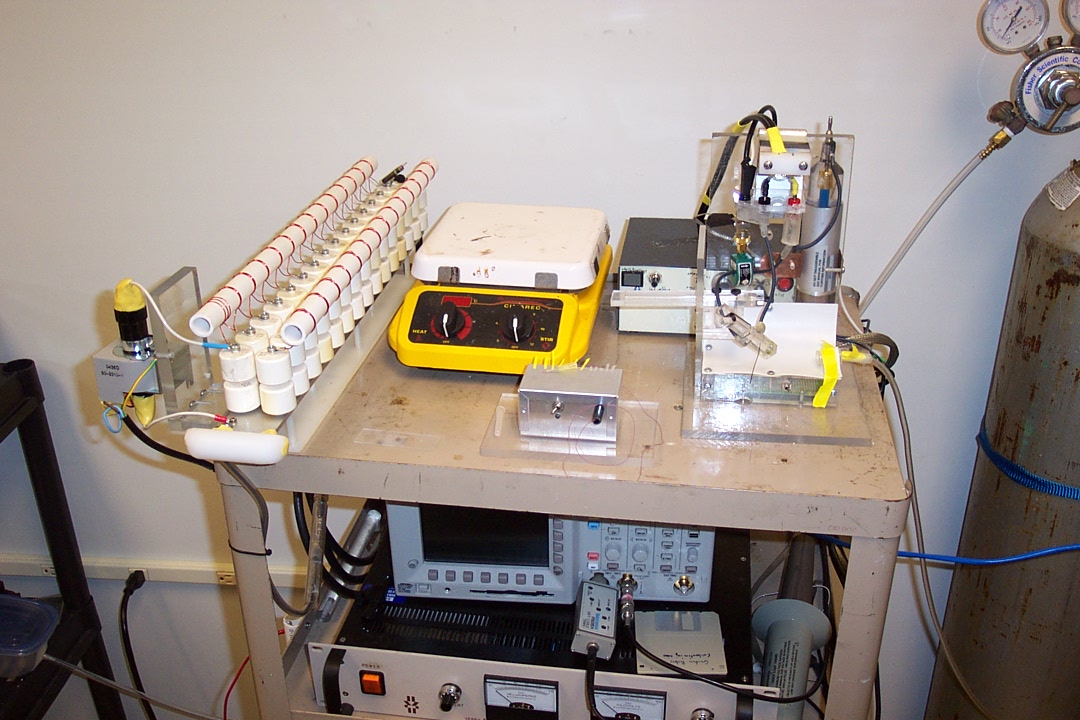 Schoenbach's cancer-killing equipment requires less space than an office copier

Making that more likely is the fact that the equipment is the same size as a printer and can be stored on a portable cart—a painless office addition for any dermatologist. And, amazingly, the equipment cost for this medical breakthrough is about the same as a flatscreen TV. The high-voltage power supply, cables, and switches can be purchased for less than $2000.

This first stage of testing has been limited to skin tumors, which can easily be squeezed between electrodes. But Schoenbach is also exploring a couple of ways to use his method on internal tumors. The first method could be easily implemented using current medical procedures. By inserting a catheter with electrodes at the tip into the body, pulses can be directly applied to an internal tumor. The second method, while less invasive, is much more complex.

The process would follow the same principles of a car headlight. A headlight uses a concave reflector to magnify and direct light generated from a central point, creating a beam of light. By placing an antenna at the center of an ellipsoid reflector, electromagnetic waves from the antenna can be focused at a second point, which in this case would be somewhere inside the body.

"It's not as easy as it sounds," says Schoenbach, "it requires extremely high electric fields and extremely short pulses. In order to use it in an antenna, we need to go to less than one billionth of a second. So this requires improved technology."

It's just a concept at this point, something that will take years to develop. But once it's created, the treatment will be an elegant cancer-fighting method of the sort previously found only on episodes of Star Trek. Even Captain Kirk would by impressed.