Racing for Glory
Virginia Miler Alan Webb Breaks American Record
by Bill Glose

The four-minute mile: For decades it was one of sport's mythical milestones, the standard by which all middle-distance runners were measured. The first person to run a mile in under four minutes was Roger Bannister, in 1954. "Doctors and scientists said that breaking the four-minute mile was impossible, that one would die in the attempt," he said after the race. "Thus, when I got up from the track after collapsing at the finish line, I figured I was dead." Bannister's performance is still regarded as one of track and field's most momentous. Twenty-three years later, Queen Elizabeth knighted Bannister—that's how big a feat it was.

Growing up in Reston, Alan Webb didn't think much, if at all, of winning races or becoming an elite athlete. When he competed in his first mile—a gym class fitness test in elementary school—he performed well, finishing near the front of the pack. That little achievement sparked something big in the boy—desire. "I wanted to be the best kid in my grade," he says. And once he achieved that? "Then I wanted to be the best kid in my school."

Mission accomplished. Webb set school records in the mile at his elementary school and junior high, each modest success fueling his ambition. At South Lakes High School in Fairfax, he began to dominate organized meets. With a combination of natural speed and massive will power, Webb quickly set the school record and then, as a senior in 2001, ran a sub-four mile, becoming only the fourth high school athlete to ever do so. Later that year, at the Prefontaine Classic, Webb eclipsed Jim Ryun's 36-year-old high school record. He was in last place after the first of four laps but then turned on the jets and passed the other racers in clumps. By the time he crossed the finish line, he was pumping his fists and the stadium crowd was on its feet, cheering.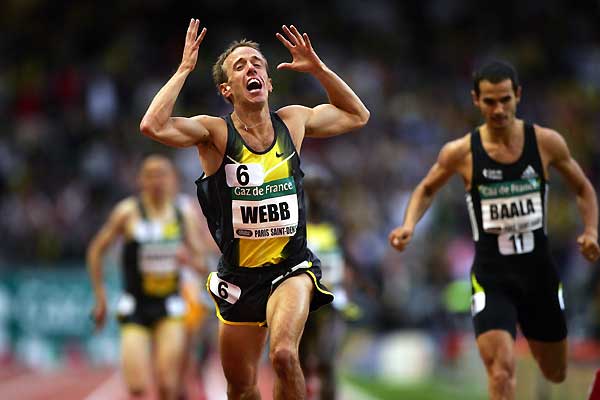 Webb races to victory in Paris

He'd run the fastest mile ever by a high-schooler. "I have a very competitive personality," he says. "I just have this desire to be the best at something."

These days, Webb is a world-class runner, still knocking off records and still pumping his fists as he does so. Last year, Webb crisscrossed the globe, racing in a dozen national and international events. He won 10 of them. In Sweden, he ran the fastest 800 meters by an American in 2007; in Paris, he ran the world's fastest 1,500-meter race of the year. (The 1,500-meter is 15/16 of a mile.) In Belgium, he raced to victory in the mile with a time of 3:46.91, breaking Steve Scott's 25-year-old American record and making Webb the eighth-fastest miler ever. This summer, he has set his sights on winning the gold medal in the 1,500 meters at the summer Olympics in Beijing—one of the sports marquee events (there is no mile competition). He'll be one of the favorites because his best time in the event last year (3:30.54) was more than a full second faster than the Olympic record.

Still, it won't be easy. The 1,500 meters is not a Sunday job. It's one of the toughest races in track and field, with positioning a key factor. Four years ago, in the Athens summer Olympics, Web lost in a 1,500-meter qualifying race and didn't make the final. He was young at the time—three years out of high school—and he says he made tactical errors. In the qualifying race, another runner accidentally kicked Webb's shin and threw off his rhythm; then, when the 5'9", 145-pound youngster tried to recover, he was jostled again by an elbow in the chest. He finished in ninth place. Webb calls that performance "stupid." Now older (25), wiser and stronger, Webb seems to be peaking at the right time. "He had a breakthrough year in 2007," says Scott Raczko, who coached Webb in high school and is his personal coach. "Now he wants to solidify [his gains]. He's excited."

A mile in three minutes and 46 seconds. It's hard for non-runners to grasp what that time actually means, so here's some perspective: It's essentially like running from the goal line on one end of a football field to the goal posts at the back of the other end zone in 14 seconds—and then running 16 more such fields laid end-to-end, without taking a breather.

Webb, like most athletes, has gone through rough patches. After high school, track gurus predicted great things for him. He enrolled at the University of Michigan, but for the first time in his racing career, Webb's race times didn't improve. He was trying to work through some injuries and taking his training lightly. "I found out I have to attack the training," he says. "I can't just go into slow."

Frustrated, Webb left college after that first year and returned home to train with Raczko. But even that didn't help, at first. He logged a lot of miles, but his times remained lackluster. "I thought just by being back in Virginia and returning to my [former] coach, by osmosis or some magic, I would become better again," Webb says. "And what I learned is that what made me good in high school was the fact that I really busted my butt … I had to get back to my [old mindset] about getting better, and that was [a function of] working hard and not just the fact that I was in a certain location or I had a certain coach or whatever. I had to make the decision to really push myself. Once I did that, I got back on track." So to speak.

Raczko waves off Webb's struggles as part of a learning curve. "He was a young athlete thrust under a big spotlight. Many athletes go through ups and downs in their careers. He'd put a lot of pressure on himself to take it to the next level. Looking back on it, it wasn't a big deal, because he was able to grow."

Asked what he noticed about Webb at South Lakes High School, Raczko says the runner's talent, drive and work ethic were special. Above all, he credits Webb's long hours of training for his resurgence. "The biggest thing is the work ethic," Raczko says—"making sure that everything is done in its entirety and in good detail. Putting in the time, that's what separates people: Who's going to work the hardest and do the small things?"

And work it is. Webb's training regimen includes at least one run of 10 to 14 miles every week, plus lots of shorter-distance running and cross training. In addition, there are many sit-ups and push-ups, and he swims a couple of times a week. The training leaves him sore "every day," but the benefits are real. "It's the reason why I've had the success I've had. It feels good to improve yourself and get better. So, when I'm out there training, if it's hard, that's a good thing. Because then I'm changing my body, I'm changing myself physically, so that when I go race I'll be better."

The grind runs contrary to Webb's personality. The runner, whose father is an economist at the World Bank and whose mother is a speech therapist, is laid-back off the track. In high school, he wouldn't even bother wearing socks when he ran. "Mainly because I was lazy," Webb says, with a characteristic big smile. "It was just one less thing I had to worry about, a little less laundry. But I'm sponsored by Nike now, so I get all the free socks I want." His dietary regimen consists of high doses of fruits and vegetables, but he refuses to give up mint chocolate chip ice cream. "I'm not perfect," he says. "I definitely eat junk food sometimes. If I eat my dinner and I'm still hungry and I want [some junk], it's gonna happen!"

Last year, when Webb became the fastest American miler in history, not many people noticed. He broke the record in the little city of Brasschaat, Belgium. "It was a tiny meet," he says. "There were maybe fewer than 1,000 people there to watch. I ran in front of a bigger crowd at my state meet in high school than I did there. It was sort of a surreal thing to do something that big in a meet that was so small." The race had no "rabbit"—a sprinter who runs part of the race to help set a fast pace—so Webb's agent arranged for one. Once Webb made it to the bell (last) lap and saw his time, he was confident he'd set a new American record. "At that point I was pretty sure I was going to get it. I could tell I wasn't going to slow down any," he says. "Don't get me wrong—I wasn't fresh as a daisy, I was hurting at that point—but I was just trying to stay composed and stay within myself as much as I could. Once I got to about 200 meters, then 150 to go, I put every ounce I had into it."

Does he think much about Beijing? "My lifetime goal is to win an Olympic gold medal," Webb says. "It's the ultimate dream, the highest thing you can do in our sport." The boy who was once the fastest kid in his elementary school is now the fastest middle-distance runner in America—and, with his steely determination, he may yet find another gear.


---
Home Page